What's this, you ask?
A blog post!
Yes, I'm terrible at this whole thing.
But anyway, updates for you:
-Currently, a Rafflecopter giveaway is going on for two lucky winners to get their hands on limited first editions of The Breadwinner and Haven.  So head here to enter, and spread the word.  Don't forget, the books come down at the end of this month in anticipation of the rerelease by Permuted in Spring 2015.
-Today I'll be finishing my latest short story for the next volume in the At Hell's Gates Anthology.  Personally, I'm in love with it.  Unlike my last short story, Nefarious, this will be completely unrelated to The Breadwinner Trilogy universe.  So needless to say I'm excited to be branching out.  Not that I don't love TBW, but with book 3 coming to an end, I feel like it truly is time to move on in the writing world.  More details will come on that new story soon.
-At Hell's Gates is available in paperback.  Have you picked up your copy yet?  You really should.  Go here and get your copy.  It's not only filled with great short fiction from great authors, but it's for a great charity.  Here's a picture of me with my paperback copy: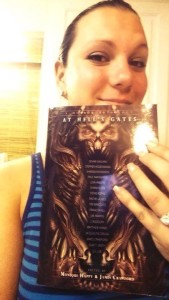 -zOctoberfest is in full swing.  Have you joined the event on Facebook?  I'll have my guest blog post go live on the 30th, so you'll definitely wanna check that out!  Plus there are a ton of other authors and great giveaways every single day!  Join the event here.
-A new blogged review came through on Haven.  One by The United Federation of Charles.
-I was supposed to be on a podcast, but it was canceled twice.  The dude says he'll schedule me for a third time…but I don't know.  No worries though, there will always be more opportunity.  But for anyone who was wondering about the Chimichanga Cast, that's what's going on there.
-I've decided on a voice actor, Scott Birney.  He'll be doing the audiobook versions of The Breadwinner Trilogy.  I'm so stoked to even be starting the process after the arduous task of audition after audition.  Good times.  I'll keep posting progress as we make it.
-I was in Orlando last week for Halloween Horror Nights and it was awesome-o!  Not as good as last year's, but still fun times and good scares.  I will say, zombies walking around didn't startle me nearly as much as voodoo people getting in my face.  The actors this year were intense!  They also had a mesquerade crew running around, along with street scenes from The Purge.  So now that I'm typing this out…maybe this year's street zones were better than last year's, but the houses, meh.  Here's a photo of one of the creeps that got in my face: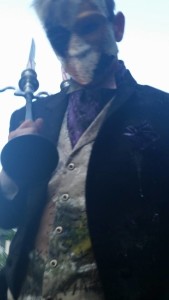 I think that's about all I've got for you guys at the moment.
I'll be out of town again next week for VoodooFest 2014 in New Orleans!  Gonna be super fun.  And when I come back, it's time to buckle down and buy a house.
Which means, less money to go out and spend, more time to stay at home and write.  Woot!
Later peeps!