31
by Rob Zombie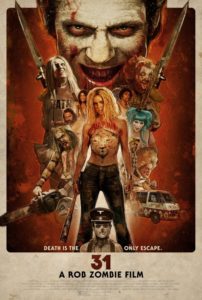 Ah, Rob Zombie… a good friend once told me "Rob Zombie is the new M. Night Shyamalan," and while his trend of releases over the past few years seems to prove that statement true, I feel like Shyamalan seems to have gotten part of his groove back and Zombie has yet to do that.
While House of 1,000 Corpses and Devil's Rejects proved to be wildly successful, he lost steam with his reimaginings ofHalloween and its sequel. While those two were not bad, they just lacked the punch of his previous releases, and then when the long-awaited Lords of Salem came out, I think people were just downright confused with the direction Zombie was headed, and even more so confused by why the hell he kept putting his wife in starring roles.
Now, here we are in 2016 and it's been four years since a Rob Zombie film has been released. The trailer for 31 looked amazing, I mean, at least we can all agree on that, right? So my love for the Rob Zombie movies of old was briefly rekindled and I was looking forward to watching this new release immensely, but just as with most horror films that I highly anticipate, I was sorely disappointed.
31 is supposed to be about carnival workers who are kidnapped in the dead of night and held hostage by people who force them into playing a twelve-hour long game of deadly cat and mouse with a group of sadistic clowns. Instead, we get… (continue reading)